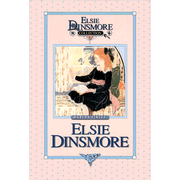 1. I was so glad to read that Vision Forum will no longer be publishing Elsie Dinsmore books! I used to own the first book in the Elsie Dinsmore series (yes, I purchased it from Vision Forum back in the day, even before my girls were old enough to read) but was thankfully unimpressed by it and eventually donated it to Goodwill. Looking back I wish I'd trashed it so no one else would be subjected to its racism and its borderline incest and pedophilia!
2. I Am My Child's Friend. I loved this. Such a contrast to Voddie Baucham's advice that will end up making your child more of an adversary than a friend. It makes me heart-wrenchingly sad to remember how my parenting, just like Voddie recommends, centered around ME and not my children. Spanking made life pretty convenient for me. My kids did what they were told, ate what they were told and slept when they were told. It was a quick, easy way to keep peace and order in the house and, sadly, it never occurred to me to think more creatively about discipline. But praise God, He restores the years that the locusts have eaten and for the past few years I have been enjoying the friendship of my children, aiming to prefer them above myself, and using plumbing supply lines and wooden spoons for their intended purpose–plumbing and cooking!
3. I've been enjoying Jenny Rae Armstrong's Equally Yoked series, posted every Monday. Jenny's husband wrote this one and I also liked this one written by a couple who grew up in the Patriarchy movement. And this hits the nail on the head: There is Simply No Need for Hierarchy in Marriage if Each Partner Loves and Respects the Other. Because when you're married to your best friend, "who's in charge" becomes a moot point! As my pastor pointed out recently, everyone is called to submission. (Eph. 5:21)
Do nothing from selfishness or empty conceit, but with humility of mind regard one another as more important than yourselves. Phil 2:3
4. I found Mr. Money Mustache a few months ago when we were searching for more affordable cell phone plan options. His post, Our New $10 Per Month iPhone Plans, was exactly the information I was looking for and switching to Airvoice has been saving us $120 per month! I started reading some of his other posts and eventually read through his entire archive and became a subscriber. The idea of early retirement intrigues me, though my husband and I are a bit late to the game to try it ourselves. That said, we have made it our goal this year to downsize and simplify in pretty much every area of life. As much as we enjoy our possessions, and as hard as it is to let some of them go, I think the simplicity of life and the ability to be more generous with our time (and money!) will be worth it.
5. Speaking of simplicity, Becoming Minimalist is a blog I came across recently that I like to read. And can you imagine living a life that produces no trash? I can't, but it's interesting to read how Bea from Zero Waste Home does it!